Development
In planning, design, financing, leasing and management, MGA brings the full complement of skills to see developments from inception to operation — and create projects that stand the test of time.
550 West Jackson
Chicago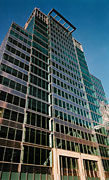 The redevelopment of 550 West Jackson transformed a squat, undistinguished office building into an architecturally acclaimed hub for 21st-century business. Planned as a 12-story bank headquarters, the building was reduced to four stories when constructed in 1961. Nearly 40 years later, only a long-term lease for an MCI WorldCom switching station stood between the timeworn structure and demolition. Seeing the value of the site's location directly atop the city's telco grid, Goodman salvaged the building and, in a feat of structural engineering, expanded it to 18 stories. After attracting a roster of blue-ship tenants, Goodman sold the building in 2005 for $125 million, or $307 per square foot.
Harmswood Office Center
Skokie, Illinois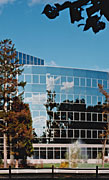 In 1988, Mark Goodman secured the last premier site in this North Shore suburb of Chicago for development of Harmswood Office Center. Ideally located, this Class A property offers easy access to the Edens Expressway and convenience to Old Orchard Shopping Center within a pastoral setting amid scenic walking paths, equestrian trails, tennis courts, parkland and forest preserves. To complement these rich amenities, Goodman paved the way for introduction of a 24-hour Life Time Fitness Center now operating on a neighboring site.
Investment sales and acquisitions
MGA has a strong track record in acquisition, disposition and financing of office buildings, retail centers and residential properties, as well as land brokerage.
181 West Madison
Chicago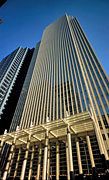 When Atlanta-based TMW Real Estate Group sought a major CBD office acquisition for a German closed-end public fund, Mark Goodman saw a prime opportunity at 181 West Madison. Designed by renowned architect Cesar Pelli, the Class A tower ranks among downtown Chicago's most prominent trophy buildings. But for most investors, it wasn't on the radar — because it wasn't on the market. Undaunted, Goodman approached its owner, The Davis Companies of Los Angeles, and negotiated TMW's $248 million acquisition of the property.
225 West Washington
Chicago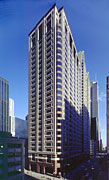 When the powerhouse West Loop office corridor was still in its infancy, Mark Goodman saw the opportunity to transform a pair of rundown brick buildings into Chicago's next hot office property. In a complex series of transactions, he simultaneously acquired both parcels — one privately owned, the other for sale in bankruptcy court — while negotiating the buyout of a long-term Burger King lease at one of the properties. After closing the transactions, Goodman sold the contracts to Fifield Development Corp. and became a limited partner in developing a 28-story, 528,000-square-foot office tower designed by Skidmore, Owings & Merrill for this once-underutilized site.
Life Time Fitness Center
Skokie, Illinois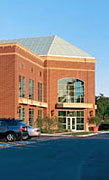 Chicago's North Shore offered no shortage of fitness clubs — except at the busy juncture of the Edens Expressway and Old Orchard Road. Seeing the opportunity the market had missed, Mark Goodman identified a prime parcel. But there was a catch: The property wasn't zoned for a health club. Rather than pursue rezoning, Goodman convinced the village to change its zoning ordinance, making a health club a permitted use, and purchased the site, today a 24/7, 108,000-square-foot Life Time Fitness Center.
Construction management
Subsidiary MGA Management Services has successfully completed projects from redevelopments to tenant build-outs, for clients including architects, developers, management agents, corporations, retailers and food-service companies.
Metropolitan Tower
Chicago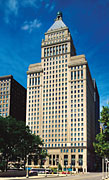 Converting this historic downtown Chicago building from offices to condominiums required a keen eye both for the original architecture and for the demands of the high-end residential market. To meet these dual objectives, owner Metropolitan Properties of Chicago, LLC turned to MGA Management Services. Working with renovation architect Pappageorge/Haymes, Ltd. and contractor Linn-Mathes, Inc., the MGA team provided construction management services throughout the process of demolishing and reconstructing the interiors, installing new elevators and building systems, and renovating the façade and lobby.
550 West Jackson
Chicago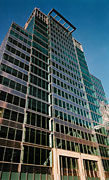 MGA's construction arm played a critical role in orchestrating the architectural, engineering and building team behind the successful completion of this complex redevelopment project. Over the course of two years, MGA Management Services coordinated the transformation of a four-story structure into an 18-story tower attracting blue-chip tenants and winning rave reviews for its architectural design. Most remarkably, MGA completed the redevelopment, on time and within budget, without interrupting an MCI WorldCom switching station in the building's base that remained in constant operation throughout the construction process.